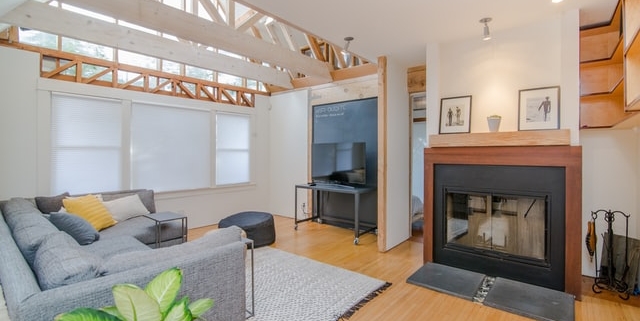 outsite-co-R-LK3sqLiBw-unsplash
Top Home Updates That Pay Off
Are you looking to make improvements to your home but don't quite know where to begin? Home updates can make a profound difference in the appearance and value of your home if done right. However, if you choose the wrong updates, you do not only waste your money, you make your home harder to sell, warns Lonnie Bush.
Given the array of renovations, you can do to a house, choosing the right one can be challenging. For easy choice, we have whittled the long list of possible home updates to just a few. Read through our list of most valuable home updates to find the ones that appeal to you the most.
1. Repaint your home's exterior and interior
Repainting your home is the most basic home upgrade you can do, yet it is one of the most impactful improvements you can make. Wall paint creates the general ambiance of the home. It determines how bright rooms are and how spacious they feel. But you do have to choose the right colors for the interior and exterior spaces. The best colors will help your home sell faster and for more money.
2. Improve your landscaping
Landscaping is one home update that increases in value with time. Unlike other updates, you won't need to periodically redo your landscaping because it has gone out of style. Mature trees and established gardens make a home more valuable. However, you have to be careful not to plant trees with invasive roots which will endanger your home. The landscaping should also be diverse and low-maintenance. When you combine good landscaping with trendy exterior paint colors, you give your home the chance to make the perfect first impression.
3. Replace your garage door
The garage door is another essential element of your home's curb appeal. Replacing a garage door improves the home's overall façade because garage doors are highly visible. Beyond that, this is more of a functional update than an aesthetic improvement. A garage door will cost around $3,700 to replace. But when you sell the home, you will recoup as much as 95% of that cost. This upgrade pays for itself and makes it easier to sell the house. It is a practical update, and buyers will be happy about it.
4. Add a new deck
A deck is a versatile space you can adapt to various uses. Adding one expands the square footage of the house and improves the appearance of your outdoor areas. A deck creates a zone that lets you transition seamlessly from the inside of your home to the outside. You can add outdoor furniture and a canopy to make it comfortable on hot summer days. Building your deck with wood instead of composite will bring you better returns. When updating a wood deck, expect to spend around $14,360. You will recoup up to 72% of that cost when you sell.
5. Install a steel door in your entryway
The front entryway to your home should be attention-grabbing. This area gives visitors their first taste of what to expect inside the house. Since the front door is the centerpiece of your entryway, the area's design should highlight and complement the front door. Replacing your front door with a steel version will cost roughly $2,000. But when you sell the home, you will get back 70% of your costs. For your front doors, choose bold colors that match the home's exterior.
6. Update the kitchen
Kitchen updates have a direct impact on the resale value of a home. That is because this is the room with the most influence on buyer's decisions. Kitchens are valuable because they serve as a social hub of the home and a showpiece for the rest of the house. There are numerous possible updates to do in the kitchen. These include; upgrading appliances, replacing sinks, countertops & faucets, installing new cabinets or a kitchen island. Most times, it is not possible or even advisable to do a complete overhaul of the kitchen. The cost of updating the kitchen depends on the updates you do, but the ROI from most updates is around 77%.
7. Modify the bathroom
The bathroom is another room that greatly influences buyers' desire to buy a home. It also affects how much they offer for it. The number of bathrooms in the house and the presence of a tub are valuable considerations for buyers. However, even if a home has only one bathroom and no bathtubs, buyers want a combination of features that make the space inviting and relaxing. Just like the kitchen, it is hard to estimate how much a bathroom upgrade will cost; it depends on the specific features you choose. But you should expect to recover 57%-64% of your costs when you sell.
8. Add stone veneer
Replacing the vinyl siding on the street-facing side of your home with a manufactured stone veneer will make it even more appealing. Unlike vinyl, this material will not crack, split or warp, and it will also not dent or fade like aluminum. Manufactured stone veneer will retain its appearance because it is resistant to fire, rot, and insect attack. This upgrade costs around $9,400 and will add around 96% of that amount to your home.
https://www.patrickspainting.com/wp-content/uploads/2021/07/Top-Home-Updates-That-Pay-Off-Living-Room.jpg
427
640
Emma Davis
https://www.patrickspainting.com/wp-content/uploads/2016/09/patricks_painting-logo_V3-15-300x88.png
Emma Davis
2021-07-06 21:31:18
2021-07-06 21:31:33
Top Home Updates That Pay Off